05 Aug 2022
We are now offering third-party assessment of the implementation of the for ISO 30415:2021 Guideline and of Gender Equality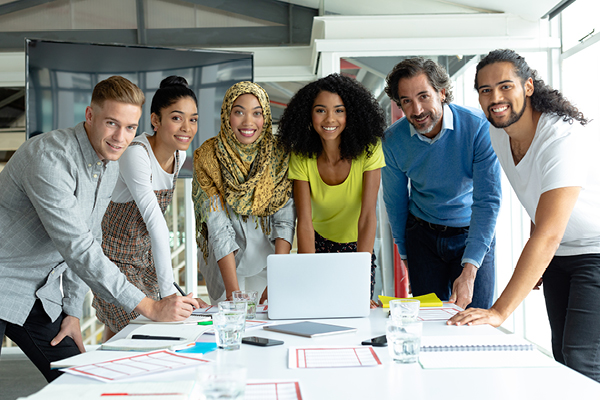 In today's society, Diversity and Inclusion (D&I) need to become assets in which companies are truly invested, in order to maximize contributions to and from all internal and external stakeholders.
How is it possible to demonstrate your commitment to the management and enhancement of diversity in business processes?
The advantages of "ISO 30415: 2021 - Human Resources Management: Diversity and Inclusion"
The assessment concerning the application of the Guideline "ISO 30415: 2021 - Human Resources Management: Diversity and Inclusion" developed by ISO supports organizations in all sectors and of all sizes in the management process of D&I issues.
Key benefits for an organization that wants to use the verification of its D&I management model in accordance with ISO 30415 are:
Improving their ways of enhancing diversity, expanding the capacity for inclusion of human resources
Communicating to stakeholders on the strategic choice to act in accordance with current international standards
Enhancing its human capital by increasing the capacity for inclusion and giving staff the opportunity to contribute to developing the culture of inclusion and diversity
To use this experience as a demonstration of commitment to the topic, as increasingly required during public and private tenders and in accordance with future regulatory developments
Integrating the general theme of D&I into its HR procedures, also favoring the application of the requirements of the specific assessment on Gender Equality, which insists in the same D&I framework
The benefits of the Gender Equality Assessment model
Gender differences must be valued: equality between women and men is a necessary condition for the achievement of the objectives of growth, work, social cohesion at a global level. "Inequality" represents a burden that generates an economy that is not completely effective and sustainable.
The "Gender Equality Assessment" model proposed by Italy's Unitelma Sapienza and RINA wants to identify the strengths and weaknesses of the applicant Organization with respect to these issues and provide a measurement tool aligned with the best standards available and published to date.

Key benefits for an organization are:
Communicating to stakeholders their will to analyze and overcome any "gaps" with respect to the gender policies implemented
Enhancing the human capital without gender limits and offering staff the opportunity to help developing and supporting the culture of equality, inclusion and diversity
Matthew Allen, RINA Certification's Senior Director for the Americas, said: "I have been fortunate to work in professional organizations with healthy gender balance and inclusive mindsets around diversity. This sadly is not a universal reality and it is great to see the leadership of RINA, ISO and Unitelma Sapienza to provide organizations with a modern gold standard to measure themselves against. Let RINA be your D&I partner".
Contact us to enhance diversity and inclusion in your company