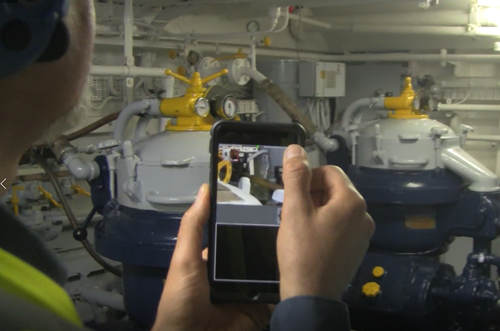 Nowadays, one of the biggest economic challenges in every market is to avoid expensive travels when they are not really necessary. For some identified occasional surveys, RINA provides now a new digital service for crediting such inspections in remote ensuring an equivalent reliability without burden of time, money and resources.
Main benefits
This new tool can support ship owners in managing critical situations, caused by logistical problems linked to the position/port where is the ship, saving money and time caused by the stop of the vessel.
Deliverables
Shipowners send to RINA the request of remote survey by filling in the web form
RINA reviews the request and confirms if it is feasible, both in case of survey to be performed in port or in a ship in navigation
RINA surveyor connects via mobile device to the crew on board, for livestreaming attendance to the requested tests/checks
Upon good results of the remote survey confirms validity of class and/or of statutory certificates.
Why RINA?
Shipowners can rely on a 24/7 support from our global network of surveyors. Our commitment to digitalisation helps us combining a longstanding technical expertise with cutting-edge tools and technologies.
Q&A
1. Can all type of surveys be carried out in remote?
For the time being, the following surveys can be managed with remote survey techniques:
Three months tailshaft survey extension
Continuous Machinery Survey items
Documentary verification
Management of minor deficiencies (1-2)
Bottom inspection with ship afloat (IWS) (3)
Radio Survey (4)
Survey for change of name
Lay-up surveys
Survey for change of load line (4)
ISM SMC-DOC audits (4)
ISPS ISSC audits (4)
In case it is necessary to perform in remote another type of occasional survey, competent RINA office can be contacted to check feasibility.
2. Do I have to install special equipment to have surveys carried out in remote?
No specific equipment is requested on board, except of a tablet or other mobile device with a good Internet connection (at least 3G) and RINA Kiber app to manage the video streaming. RINA Kiber app is free of charge and it can be downloaded and installed via the App Store of your device.
(1) Deficiencies caused by damage/collision/casualty are not managed with remote techniques unless upon special considerations by RINA.
(2) For these type of occasional surveys final acceptance of remote technique is subject to RINA acceptance upon receipt of the request.
(3) Company performing IWS is to be equipped with live streaming capability for IWS video/comunication.
(4) Subject to Flag authorization.