29 Aug 2022
Interview with Massimo Perotti, Chairman and Chief Executive Officer of Sanlorenzo S.p.A.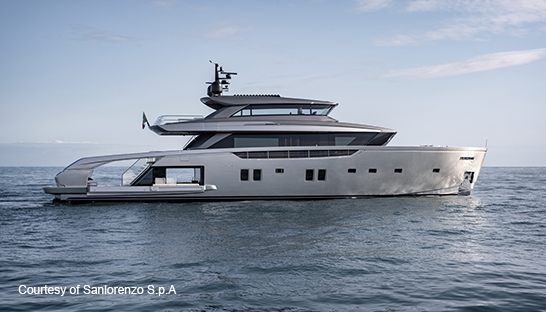 For over 60 years, Sanlorenzo has crafted tailor-made motor yachts personalised to the needs and style of their owner. Our priority is to listen to customers' needs, and each Sanlorenzo is the product of a multi-stage customisation path.
This enables us to delineate the special-purpose areas in order to satisfy the customer's specific entertainment, relaxation and enjoyment needs.
Our other priority is undoubtedly sustainability. We are headquartered in Ameglia, in the middle of a natural park just outside La Spezia, where we moved in 1999.
As a result, we have been working for more than 20 years to protect our environment: it is not possible to work in such an area without taking the utmost care to minimize our carbon footprint and optimize our energy consumption. For example, the roof of our new build shed is covered with photovoltaic panels, enabling the plant to be almost power-independent.
Today, we have many projects at an advanced stage of completion. We have signed an exclusive agreement with Siemens Energy to develop fuel cell technology for yachts between 24-80 metres. The first Sanlorenzo yacht to operate this system will be a 50 metre yacht for delivery in 2024. This technology really represents the future of yachting.
Sustainability measures are present at every level of production. Take the interiors: our new SANLORENZO SD90, a 27 metre yacht uses materials from alternative sources, for example made from shells.
Meanwhile, we have made use of recycled paper for the upholstery, and bioresins for the ceilings and furnishings details. Woods have been carefully selected to ensure a lower environment impact, and recycled nylon textile fibers have been employed in many different situations.
The naval architecture was developed by Sanlorenzo, and she will be built with a Teak deck, a GRP hull, and GRP superstructure.
At all times, RINA has been a strong point of reference for creating sustainable solutions, and we can count on the society's expertise in this field, encapsulated in the RINA Green Plus certification.
We have been working with RINA for a very long time and a large number of our yachts are RINA certified.
We appreciate their approach – meticulous and thorough, but always open to discussing new ideas and projects.
RINA's approach to sustainability brings a strong added-value for us, and we hope to collaborate further together in this area. We also believe there is an opportunity for Italian yachting companies to work even closer together.
When we look at the Dutch shipyards and yachting companies, we see they frequently present themselves as one body, as a unified entity. This enables them to vocalise and address common issues and requests, and makes it easier for them to present their position.
I believe the industry in Italy should adopt this as an example and work more closely as a single unit.
We are already part of Confindustria Nautica, formerly UCINA, and we have supported the association in all areas, especially during difficult times for the nautical industry. We strongly believe
in the power of associations and in the strength that they can have in collective situations or negotiations.
Despite the tragedy of the pandemic, the market has managed well since the outbreak of COVID. Indeed, the pandemic has emphasized the need for safe havens, something that yachtscan provide. For now, the market remains very strong.
The invasion of Ukraine of course presents challenges, and the final outcome is still so uncertain that it is too early to say what impact it will have the yacht industry.
On our side, we can only focus on working hard. In doing so, we hope to counterbalance the side effects of such a tragic situation from both an economic and human point of view

BIOGRAPHY
Massimo Perotti was born in Turin on 26 October 1960. He graduated in Economics at the University of Turin with honours (110/110). In 1984, before completing his studies, he began working in Azimut alongside its founder, contributing significantly to the company's growth. He became an executive in 1987, at the age of 27. He joined the board of directors of Azimut Benetti S.p.A. with delegated powers since the early 1990s and he was appointed chief executive officer of the main "Azimut Division", in 1996, at the age of 36. In 2005, at the age of 44, he acquired the majority of Sanlorenzo, for which he assumed the role of chief executive officer and subsequently also of chairman. He has been leading the Group on a path of constant and sound growth until achieving a global reach, with an exponential increase in turnover, from €42 million in 2004 to €674 million in 2021, facing the 2008 financial crisis and the subsequent collapse of the yachting sector without the recourse to redundancies or social safety nets. In 2019, Sanlorenzo was listed on the STAR segment of the Italian Stock Exchange and Massimo Perotti retained the majority of shares. In 2014, he was unanimously elected chairman of UCINA, Confindustria Nautica. He is currently a member of Confindustria Nautica's board. In 2017, he was awarded the honorary title of ''Cavaliere del Lavoro'' (Italian Order of Merit Massimo Perotti BIO. for Labour). In 2019, he won the EY "Entrepreneur of the year" award for Italy.