29 Aug 2022
Interview with Fiorenzo Spadoni, EMEA Marine Commercial Director, RINA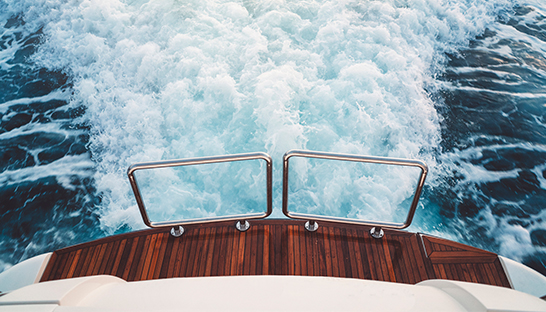 Yachting, even in boom periods such as these, is a unique market with its own particular strengths, weaknesses and needs.
RINA is a long-time investor in the yachting sector, bringing special resources to this niche market.
Indeed, yachting has become a kind of trademark for the society: perhaps because the company was born in Italy, traditionally the heart of boat construction and sailing, or perhaps because yachting meets our goal of creating vessels of excellence and perfection.
RINA was the first classification society to dedicate personnel to this sector, creating special Class Rules for pleasure and charter yachts as long ago as 2005. This development was positively welcomed, marking a new approach in the marine industry.
This year, RINA is taking another step forward with the creation of a totally new yachting brand, RINA MAXIMA. It will focus on custom-built yachts, typically from 40m upwards, a market that is currently undergoing incredible growth.
RINA has built a dedicated team offering a suite of services and a portfolio of digital tools, ensuring clients stay ahead of the market. The vessels in question are constructed in steel and/or aluminium, with building specification parameters that are much higher than a production GRP boat. Often, they have state-of-the-art technologies on board, and require special Rules to reflect their uniqueness.
Owners have ambitious goals for their boats and require a proactive approach toclassification, with support for stakeholders allalong the value chain.
Two elements in particular will drive RINA MAXIMA: digitalization, and sustainability.
To achieve these goals, we are transformingthe way we deliver the core services of yachtclassification and engineering consultancy.
RINA MAXIMA is based on 5 pillars:
1) Specialized experts with the highest qualifications
RINA MAXIMA has set up a dedicated team of highly qualified experts. In particular, we have reinforced custom superyacht Plan Approval centers in Italy,Turkey and Northern Europe and Asia.
To supplement our standard internal training,our team of experts will regularly undergo dedicated training programmes with the major Flag Administrations, enabling themto streamline building processes regardless of the applicable code: REG A / REG B, Marshall Islands or Malta Yacht codes.
2) Digitalization of the full lifecycle of the yacht
The advent of digitalization in yachting means we can deliver, through RINA Digital solutions, services in the most effective and efficient manner possible, including:
The control and monitoring of assets remotely (full remotization), together with the observation and analysis of key performance indicators (OPTIMUM)
Improvements in onboard working procedures using new technologies (Electronic logbooks, Inventory of Hazardous material and remote inspection software)
Flexible software solutions for specific operational needs (SERTICA yacht management).
3) Core services for safety, comfort and security
As valuable assets, custom yachts need to prioritise safety, security and comfort onboard. RINA MAXIMA's core services are powered by the new engineering arm of RINA, RINA Marine Consulting, and involve:
Cyber Security By Design - A consultancy that can help ensure your superyacht is cyber secure even before it leaves the drawing board. Then, it's about monitoring security onboard with a dedicated team.
Noise and vibration assessment - RINA is known for its expertise in this field and can assist both with measurement and prediction - giving comfort to designers of large and ambitious custom projects. When it comes to assessments, technicians are equipped with innovative tools, to take the most accurate readings.
On these crucial topics RINA has relevant certification services such as CYBER RESILIANCE notation, COMFORT LARGE YACHT & DOLPHIN notation and for big sailing vessels the RIG CERTIFICATION, today covering also passenger yachts up to 36 passengers.
4) Decarbonization and Sustainability
RINA is supporting the widespread adoption of revolutionary alternative fuels, like hydrogen and methanol, that are now becoming commonplace in the most innovative custom-yacht designs.
In addition to the core certification services boosted by fuel-specific set of rules and guidelines, RINA MAXIMA, through RINA Marine Consulting, can use its expertise from other sectors, not least the energy industry, to advise clients from an engineering and design standpoint.
Our Sustainable Yacht notation addresses all the key environmental and social targets, bringing them altogether for the first time. The notation meets the criteria stated in the GREEN-PLUS, COMF LARGE YACHT, MLC DESIGN, BIOSAFE SHIP notation.
5) Shared-Platform Ship Model Approval
RINA MAXIMA is bringing a new approach to the Plan Approval process that allows a more efficient collaboration between the designer and the RINA technician.
This pioneering software enables designers and builders to literally build a 'digital twin' of their yacht, ensuring rapid reference facilities and efficient approval. Users can upload and work simultaneously on the 3D model or 2D plans of the yacht.
RINA MAXIMA
RINA MAXIMA aims to serve the whole custom yacht sector, and we will shortly launch a global technical committee to collect service feedback, rule modification proposals and discuss technical issues, raising the bar of quality and safety.
A first successful step was already taken in May with the formation of the Superyacht Green Technical Committee in Italy. All these initiatives will contribute to raising the bar when it comes to quality and safety at RINA MAXIMA.
RINA MAXIMA is all this and much more, and we intend to maintain the brand at the cutting edge of innovation to cater to this exciting, fastevolving industry.