29 Aug 2022
Interview with Richard Allender, Director of US Operations and Product Development, Alexander Marine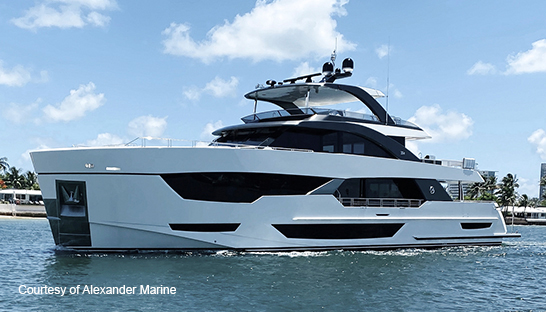 The past twelve months has brought unexpectedly brisk sales across our entire network. With the increased interest in the yachting lifestyle due to Covid-related restrictions on flights and other forms of traditional travel, many new clients are now chartering and buying yachts for the very first time.

The short-term impact on the yacht industry has been extremely positive and we believe it will continue to positively impact the industry for the long term. We have seen a large increase in new owners who are choosing the spend their valuable time on the water. We believe this group of new owners will get immense pleasure from the experience, bringing yet more new customers into the market.

As a result, our sales network has felt the impact and the growing interest in yachting is providing fantastic opportunities for shipbuilders. Technology has resolved or reduced many of the initial challenges of not meeting face-to-face, or missing boat shows. Our dealers have adjusted their traditional office hours and are now often making personal appointments and/or working virtually to show clients prospective yachts.

On the production side, we are now seeing pressures on the supply line and possible supply chain issues due to plant closures by many of the equipment vendors worldwide. This has forced us to look and plan out further than normal to ensure that we meet client delivery expectations, while also considering different or new product offerings.

Our strength lies in our knowledge-base and the quality of the craftsman employed. With almost 50 years of build history to draw from, our extensive and long-lasting relationships with key marine equipment suppliers enable us to maintain a leading position when it comes to utilizing the latest technologies.

Alexander Marine is known for building timeless yachts of great quality. Many of our original builds from the late 1970s and early 1980s are still beautifully preserved and often obtain incredible second-hand values on the market. We are continually receiving requests from private buyers looking for an 'Ocean Alexander' from the 1980s and advice on how to best maintain their investment. It is a great honour.

Alex Chueh, our founder, took immense pride in building these yachts and his son, John Chueh, has been instilled with the same philosophy. At the same time, we understand that these yachts may encounter unforgiving sea conditions, and we always keep safety uppermost in our minds throughout the design and build process.

Elsewhere, we are seeing a trend for clients to take longer voyages. This does not necessarily translate to larger yachts but has implications for the amenities on board. Especially as in some instances having a larger yacht will limit usable harbours, or the areas that can be explored. A yacht that is under 130 foot has a wide range of options for berthing and a majority of marinas can accommodate them.

Regardless of size, today's buyers want the same amenities at sea that they enjoy at home. That can mean a space designed specifically for comfort and relaxation, a state-of-the-art entertainment and music system, or even ample storage for provisioning - whichever comforts of the home they enjoy the most, those will be required on the yacht.

And of course, owners are nearly always fierce environmental advocates. This is a unique trait that we find in the majority of yacht owners. Preserving the oceans, nature, and wildlife go hand-in-hand with enjoying being on the water. Thus, owners seek fuel efficiency and appreciate our use of fabricated materials that replicate traditional leathers and other sustainable resources. In the yard, we have also worked extensively to reduce the carbon footprint of the manufacturing process, minimizing waste, reusing rainwater wherever possible, and aggressively recycling applicable materials.

Working with an organization like RINA is extremely beneficial to us as a builder. RINA is actively pursuing solutions for manufacturing, especially with regard to future sustainability. With the company's breadth of knowledge, we are able to gain insight into the very latest developments. Owning a RINA-certified yacht also relays a sense of security to the buyer, knowing that the boat was built to a set of standards, and inspected by professionals throughout the process.

In recent years, we have established an even stronger relationship with RINA as we move towards building larger yachts suitable for international waters. Currently, we are working on a 35-meter project with an Italian design and engineering firm, and the boat is designed to be built to RINA'S 'Pleasure Yacht' classification standards.

BIOGRAPHY
Richard Allender is the Director of US Operations and Product Development at Alexander Marine. He started his career in manufacturing with a major New York stock exchange listed clothing manufacturer and eventually became Chairman/CEO. As a clothing manufacturer with plants in over seven countries, Richard travelled the world and learned the intricacies of manufacturing from multiple perspectives. After he retired from the fashion world, his personal love of boating led him to a meeting with John Chueh regarding his own 'Ocean Alexander' yacht. Since that fortuitous meeting in 2002, Richard Allender has been an integral part of Alexander Marine's sales, marketing, design and product offering.