29 Aug 2022
Interview with Phil Noad, Regional Director, Europe, Middle East, & Africa, Cayman Registry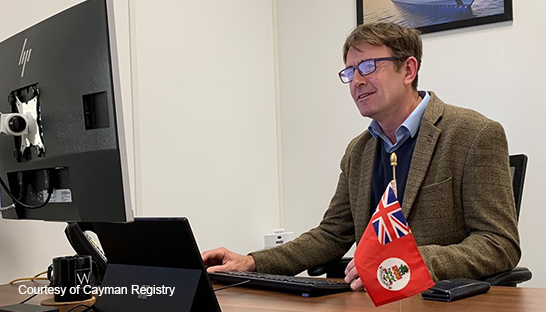 Probably the three most common concerns directed to Flag and Class by yacht owners' representatives are a lack of 'consistency', 'project oversight' and 'transparency'. This is not new, nor specific to the yacht industry, but nevertheless deserves our attention to safeguard the reputation of our own organisation and that of the wider superyacht industry.
For this reason, the Cayman Registry decided to develop a best practice guide, which was seen as a good vehicle to address concerns and establish expectations. For more than a decade, the Cayman Registry has typically had 170 to 190 newbuild superyacht projects underway at 50 to 60 shipyards worldwide at any one time. As such, we felt we were well placed to take this project forward. Over the years we have seen many examples of how mismanagement of one aspect, which may in itself be small, has had a significant impact on the project. Much of the guide will therefore be the result of 'lessons learned'.
We are frequently interacting with the owner's office and technical teams, sea staff and legal representatives, and so it is hoped that this document will have something for all and will be regularly revised and expanded to meet industry needs.
Ideas for the content of the guide includes:
Class and Flag - Roles and responsibilities
Regulations, instructions, rules, guidance, recommendations, interpretations, equivalent arrangements and exemptions
Concept design meetings – key design and operational considerations
Class and Flag contract arrangement/ agreement with builder
Stakeholder relationships / lines of communication
Inspection / test hold points, surveyor patrolling
Oversight of Class and Flag plan appraisal and survey activities
Managing disputes / complaints
Learning lessons
Project closeout
Registration and certification
Reporting and managing postdelivery defects.
Potential appendices might include inclining experiments, sea trials, aide memoires for project 'kick-off' meetings, drawing approval lists, yacht delivery documentation, and a concise list of all existing industry guides from Class and Flag.
We are also looking at including an appendix on the minimum requirements of a shipyard quality management system, covering such matters as project manager qualifications and experience, resources, compliance with approved shipyard standards and plans, quality control, management of defects and preventing their reoccurrence, weight control and modifications.
My hope is that, as a minimum, the guide will serve as an informative reference document, and clarify how we are addressing 'consistency', 'project oversight' and 'transparency'. However, there is the potential for it to be much more.
Too often, we see issues arising which could have been addressed pre-contract or at an earlier stage of construction, avoiding costly rework, delays and disputes.
A robust and properly resourced quality management system, as well as structured and open lines of communication between all parties, will mitigate this and will ultimately improve the owner's experience.
We also hope it will go some way to establishing expectations for owners, and indeed could potentially be adopted as a minimum benchmark standard by shipyards. It could also serve as a basis for some elements of contract and specification discussions.
We are working closely with industry partners, and are pleased to already have RINA, LR, ABS and DNV onboard, as well as the SYBAss Technical and Environmental Director, Lorenzo Pollicardo.
In general, I would say our collaboration with industry is one of the Cayman Registry's greatest strengths; we rarely turn down an opportunity to support our partners on technical committees, debates or at events. I believe that we are widely recognised as being readily accessible and providers of sound and prompt technical support in all manner of regulatory matters. RINA are forward thinking and have great passion for the yacht industry and so we naturally work well together.
Once we have established and agreed a first draft of the guide, and fleshed out some of the topics with the current working group members, our intention is to invite other industry representatives to participate in its development. We would like to have the first version out in 2023.
Another area of interest for us is assisting clients with innovative arrangements, particularly those that mitigate environmental impact, when there are no prescriptive standards to approve them against.
When it comes to propulsion systems, SOLAS has provisions for approving 'Alternative Design Arrangements' relating to machinery and electrical systems, however the amount of time and cost of this route cannot be understated.
Flag Administrations have a significant role in ensuring that the proper process is followed throughout, but success depends on getting the design team right in the first place.
They need to be in a position to assess safety and environmental protection holistically and will also be responsible for the education of operations personnel, documentation on board and integration
with the safety management system.
Operational and technical experts in the relevant field or from similar operations also need to be involved and assist the design team in the review of hazards, as well as supply expertise to the initial risk assessment sessions. Our biggest challenge is ensuring that we have adequate resources in Cayman Registry and the wider Red Ensign Group to deal with such ambitious projects, as the final approval is a significant responsibility.
And, of course, there is a responsibility in the wider industry. We are all increasingly making personal changes to our lifestyles to mitigate our environmental impact; given the time needed to bring innovative solutions safely to market, the yacht industry needs to invest now in sustainability and decarbonisation measures, otherwise it could find itself increasingly at odds with new lifestyle choices, and demand for superyachts could decline.
On a personal note, I would also like to see more growth in multi-purpose yachts; shadow vessels are increasingly common and these in particular are well suited to undertaking hydrographic survey work for poorer nations with ecologically sensitive coastal environments, or humanitarian work and environmental research. Indeed, we are looking to develop an annex to the REG Code that covers shadow vessels and the application of the IMO Special Purpose Ship Code.
Furthermore, I would imagine that we are likely to see 'autonomous yachts' in the <500GT size range operating at the lower levels of autonomy, which may drive innovative styling and arrangements, and perhaps more motor sailing vessels, in particular multi-hulls.

BIOGRAPHY
Phil Noad is the Regional Director for the Cayman Registry's 'Safety and Compliance' department, covering operations in Europe, the Middle East and Africa. Phil is a chartered engineer. He graduated from Newcastle University (UK) with a degree in marine technology. In his 30 years in the maritime industry, Phil has worked for a warship builder, a classification society, several cruise ship operators, a superyacht consultancy firm and two flag administrations.