22 May 2023
RINA met several Korean shipyards and a ship designer to identify sustainability strategies for the maritime sector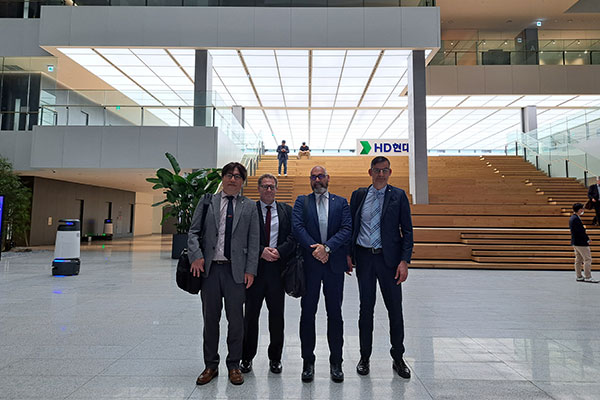 On top of its traditional role of transporting in safe, energy efficient and cost effective manner goods that constitute more than 90% of the global commerce, shipping is also requested to join a global effort to control the temperature rise on Earth.

At RINA, it is deeply appreciated how important it is to meet this target. But it is of equal importance that this new challenge will change the way that ships are designed, built and also operated. For this, aside to the traditional role of rule issuance and surveying, we follow an active approach to support the shipping industry in this transition to a low and ultimately carbon neutral future.

LNG as fuel offers a notable reduction of GHG emissions compared to liquid fuel. Therefore it is a perfect start to decarbonization. But being fossil, it cannot be the end of the road, and for this it is widely perceived as a transitional fuel.
We developed a concept where on board an LNG fueled ship, hydrogen is produced by means of steam methane reforming process ie. by reaction between steam and LNG. There is no need to purchase and store hydrogen on board, while it allows to have as much hydrogen as needed, and at the time it is needed. This process transforms LNG to a fuel in transition and removes all uncertainties and ambiguities around alternative fuels. Together with hydrogen the reforming process also generates CO2, which is liquified by means of the cryogenic temperature of LNG in the tank. This way it can be easily stored on board as pure CO2.

How this concept can be applied in shipping was presented to major S. Korean yards during the first week of April. The shipyards visited are:
Hyundai Heavy Industries (HHI)
Samsung Heavy Industries (SHI)
Hyundai Mipo Dockyard (HMD)
Daewoo Shipbuilding & Marine Engineering (DSME)
K Shipbuilding
Dae Sun Shipbuiding & Engineering
KMSEMEC (Designer)
The attendance from their side was exciting as many of their senior personnel attended the meetings. It was apparent that the yards had elaborated several solutions ahead of our visit, which made the discussion easier and enabled to reach conclusions rather fast.
The presentations included a business plan to meet IMO2050 requirements – which does not require the installation of reformer upon ship's delivery, and it was acknowledged that the LNG/Hydrogen solution is workable, with less space needs and less energy consumption than a post combustion capture system.
The yards also appreciated that the proposal is equally applicable to 2 and 4 stroke engines while it can easily combine electric propulsion and especially fuel cells, which gain continuously attention and supporters as a future solution.
At the end of these visits, a Joint Development Project was signed with K Shipbuilding and Dae Sun and others are in preparation.
The yards confirmed that we presented them with a new image, opening the future to valuable and trusted partnership.
The solution is equally applicable to all types and sizes of cargo ships, and the ship designs that will be produced will be communicated to the market with RINA as class.
We are looking forward to the plan approval of this new ship design, while the concept can be applied equally well to all types and sizes of cargo ships.
Contact us to learn more