22 May 2023
Marine surveyors can now digitally replicate the survey experience on board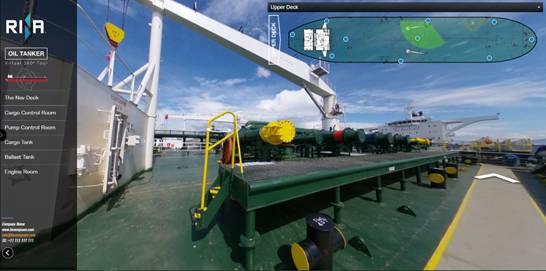 As part of our digital transformation plan, we developed an advanced digital environment for marine surveyors' practical and theoretical training.
We use it to train our people and our clients' personeel.
The new training system consists of the photogrammetry of a ship with a 360° view on all spaces/equipment on board subject to survey.
The digital environment allows to replicate the on-board training experience, having access to spaces, performing 360° visual inspection, and consulting specific digital training material embedded in the environment itself.
Why photogrammetry?
Dario Bruni, head of RINA Marine Digital Class Solutions section, says: "The 360° photogrammetry enables trainees to familiarize with the ship environment, spaces and equipment to be surveyed. Compared to other tools not based on real images, this technology provides a visual memory of the ship and of the survey that till today could be achieved only with training on board."
Maurizio Nigito, RINA Surveyor Academy Senior Director says: "With the Survey Simulator, we bring a real vessel in classroom to practice real life situations and trainees will be virtually on board, performing their duties next to an experienced surveyor who will guide, teach and supervise their activities".
Increased safety on board
With this platform, we can provide ship owners with specific ship training environments for crew members, ships superintendents and DPA.
This technology will allow personnel to perform training even before embarking, increasing safety on board and ensuring that the personnel knows properly where critical equipment is located and how it is to be operated.
Our platform provides the most added value for Ro-Ro and Ro-Ro passenger ships, where due to complexity of the spaces and of the critical systems, the visual experience is essential to ensure a prompt and efficient action of the crew in case of emergency.
Training modes
The digital ships can be used for class training under the tutoring of an experienced surveyor or in self -study / training mode with the support of the additional training material embedded in the photogrammetry. Theoretical and practical training can now be provided at any time, without time and location restrictions.
Contact us to learn more