30 Jan 2023
The noise pollution can also be dangerous and harmful to the environment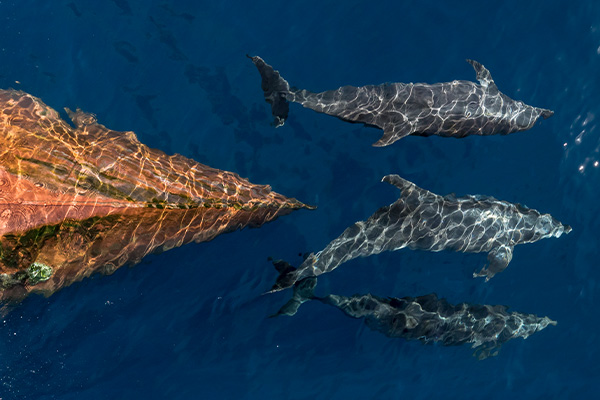 Historically, pollution is considered as the diffusion of toxic and harmful materials in air, water or soil. Only recently people started to think about pollution as dangerous and harmful sound emitted in the environment, both in water and air. Currently society is not yet familiar with noise pollution and a lack of international regulations is still present.
Marine traffic is a significant source of noise in water, where marine fauna life is affected by commercial routes. Nowadays, noise pollution reduction is an important theme that is regularly discussed in maritime committees and many countries are developing new regulations to restrict noise and rewarding low emissions ships.
In the meantime, different registries developed voluntary class notation to provide shipowners and shipyards measurement protocols and limits reflecting the current state of the art.
Underwater Noise Measurements and Post Processing
Regarding underwater noise emissions RINA Rules in 2016 proposed for the first time the voluntary notation Dolphin Class Transit and Quiet. The notation proposes a measurements protocol and limit curve that should be respected.
Ship owner and shipyard can decide to achieve the standard at normal seagoing condition (Dolphin Transit Ship) or at 10 knots (Dolphin Quiet Ship) or both.
According to Dolphin Class Notation underwater radiated noise should be measured by means of a hydrophone array positioned at a certain distance from the passing ship. This procedure is in accordance to ISO standard 17028-1 that proposes an underwater noise measurement method valid for deep water.
For this type of measurements the minimum seabed depth should be 150 m. In fact, currently no ISO Standard for shallow water measurements are available. At least four run (two per sides) should be carried out. By assuming that the ship is directive source at the surface, it is possible to define the distance normalization required to report data to the source.
Future Modifications
As already highlighted, no corrections for water depth are present because the RINA Rules assume a seabed depth of at least 150 m (deep water conditions). The target for 2024 is to introduce a new procedure for shallow water measurements with dedicated post processing corrections.
This procedure will be in accordance with the new ISO standard 17028-3 expected for 2024 and will be based on measurements carried out by Port of Vancouver with the ECHO Program.
Regarding measurements carried out thanks to ECHO Program, Dolphin Class limits will also be modified in order to promote the notation to cargo ship, which currently are excluded due to excessive stringent limits. Currently, the notation is better suited to cruise and ro-pax vessels even if cargo vessels, in fact, represent 87% of merchant vessel world fleet. The purpose of limit modification for future RINA Rules is to give to shipyards and owners of cargo vessels the incentive to improve their underwater noise emissions.
Conclusion
As seen in previous paragraph voluntary notation currently supplies the lack of mandatory regulations with measurements protocols and reference standards.
These voluntary notations are aimed to help shipyards and owners understand the state of the art and improve their noise emissions.
However, considering the increasing interest in noise pollution, notations are constantly under revision to better represent the reality.