23 Jul 2020
A study on the potential revenues from lifting grid export limits and wind turbine up-rating
Maximum wind farm power generation is typically constrained by two factors: firstly, the installed capacity of the wind farm itself and secondly, limits applied by Eskom. Additional revenue can be gained from a combination of increasing the capacity of the wind farm (up-rating) and lifting grid export limits. Wind farms in South Africa have a huge untapped potential energy production from these two factors. In this article we discuss how this untapped potential can be exploited and its potential impact on project revenues.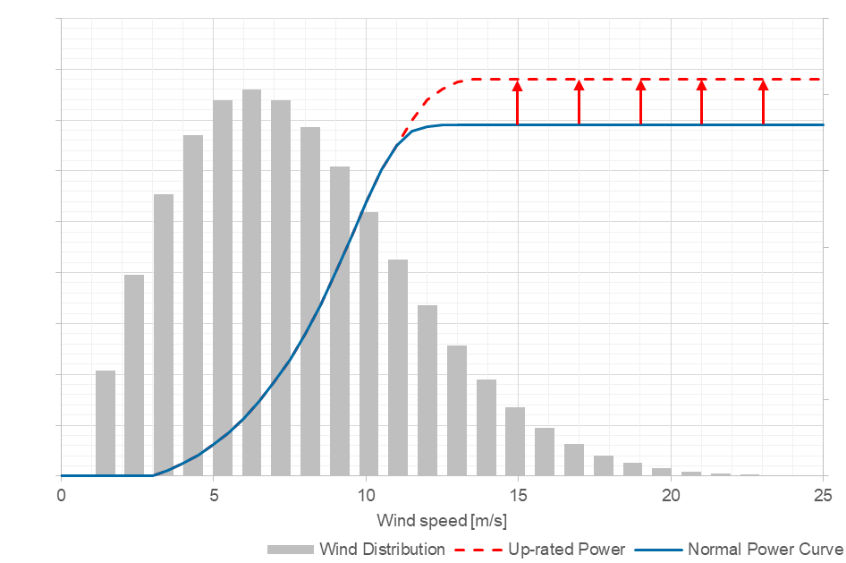 What is up-rating?
In recent years turbine manufacturers have been able to develop modifications to the control system of the wind turbine that allow for an increase in production (often in the order of 5%) without the need for costly physical changes. By increasing the 'rated power' of a wind turbine, shown in the figure, at high wind speeds more energy is produced by the up-rated power curve (dashed red line) than the standard power curve (blue line). Whilst this gain in power only impacts high-wind speeds, general gains in wind farm production of up to 2% can be achieved.
What is the potential in South Africa?
RINA has performed a study based on the wind conditions and installed and contracted capacity at each project, to calculate the untapped potential within the market. The analysis has taken into consideration the electrical losses, wind distribution and potential for each wind turbine power curve to be boosted.
Across the fleet of South African wind farms successful within the REIPPPP (including R4), an increase of 0.9% of total yield is possible (20% from raising the export limit and 80% from the implementation of wind turbine up-rating strategies), equivalent to 104 GWh/year. This equates to an average revenue increase of R1.7 million/turbine based on each round's mean tariff and the remaining lifetime of the project.
How to ensure your project maximises its potential?
There are various factors to consider when assessing the potential for up-rating, and RINA recommends the following steps are taken:
engage with the wind turbine OEM to assess the potential for up-rating, or other power curve improvements and to understand any implications on turbine warranties. This should be followed by an independent study to validate any performance gains based on observed turbine operation to date;
engage with the grid operator to determine whether there is the potential for increasing the maximum export capacity (MEC);
assess the reactive power capacity of the project to ensure grid code compliance;
optimise the project based on the potential production gains along with financial costs involved.
To understand the potential increase in performance of your project, or to discuss any aspects of this study further, please get in touch with us.
Deep expertise and a highly-skilled global team for your next wind power project
We and our advisors have worked on around 60 GW of onshore and offshore wind power projects and have been involved in over $30 billion of operating plants around the world. Our team has accumulated extensive experience in technical due diligence and analysis roles providing engineering input and wind studies.