25 Jun 2020
Under the EVERYWH2ERE project, RINA has been co-ordinating key players in the hydrogen sector to deliver fuel cell based hydrogen gensets within a transportable solution
A significant project milestone was reached earlier this month when 2 hydrogen fuelled gensets arrived in Italy. It has taken two years of innovation and rigorous product development to get to this stage. The moment when delivering environmental benefits from hydrogen gensets is fast approaching.
Under the EVERYWH2ERE project, RINA has been co-ordinating EU key players in the hydrogen sector to deliver fuel cell based hydrogen gensets within a transportable, containerised solution. The project is building on expertise from seven European nations and will integrate already demonstrated robust proton-exchange membrane fuel cells (PEMFC) stacks and low weight, intrinsically safe pressurised hydrogen technologies into easy to install, easy to transport fuel cell-based transportable gensets.
Cleaning Urban Skies
Hydrogen has the potential to bring significant environmental benefits, not only by displacing more carbon intensive energy, but by significantly increasing air quality from hydrocarbon combustion. In fact, non-road diesel engines account for between five and ten per cent of fine-particle urban pollution. These fine-particle emissions from diesel exhaust can be inhaled deep into the lungs causing breathing difficulties and potentially have longer term health implications. This effect is particularly problematic in cities where construction is ongoing. The London Atmospheric Emissions Inventory (LAEI) estimates that non-road mobile machinery (NRMM) used on construction sites was responsible for 12 per cent of NOx emissions and 15 per cent of PM10 emissions in Greater London.
There are significant acoustic benefits too, with hydrogen fuel cells operating with significantly less noise than diesel generators of similar power output. This is a key factor particularly in populated areas.
Hydrogen gensets can therefore bring significant benefits to applications requiring offgrid temporary power, including music festivals, exhibitions, conferences as well as the construction industry. EVERYWH2ERE will study and assess both 25kW and 100kW containerised plug and play hydrogen gensets to determine their ability to generate value compared with other temporary power technologies.
Music is what we breath
Music festivals are a significant source of carbon emissions. In the UK alone it is estimated that up to five million litres of diesel is consumed over a typical summer festival, producing 12,919 tonnes of CO2. The EVERYWH2ERE project will deploy hydrogen gensets to EU festivals thanks to the support of project partner DELTA1 and the Green Music Initiative. The project has already received support from more than 30 festivals across Europe during the demonstration phase including Dimensions Festival (Croatia), Rock in Rio (Portugal), Akasha Festival, Artlake Festival, Kombinat Festival, Tollwood Festival, Rocken am Brocken Festival (Germany), Wiesen Festival (Switzerland), Somos Estrellas Festival (Spain) and Shambal Festival (UK).
The generators will also be tested in construction sites belonging to another project partner, ACCIONA, one of the EU leading player in the building infrastructure sector.
Sustainable legacy
The genset delivery milestone is a major step forward starting live trials and beginning the test validation phase. An important part of the roadmap to deliver a commercial and suitable business model for commercialising the gensets by 2025.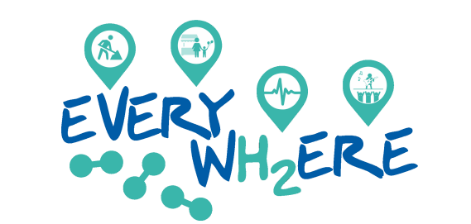 EVERYWH2ERE project has received funding from the Fuel Cells and Hydrogen 2 Joint Undertaking under grant agreement No 779606. This Joint Undertaking receives support from the European Union's Horizon 2020 research and innovation programme, Hydrogen Europe and Hydrogen Europe research
To learn more and sign-up for updates, please visit www.everywh2ere.eu