07 May 2020
RINA and Rpow are awarded the consulting and training for commissioning, performance test and O&M by Shanghai Electric for DEWA Phase IV, 700MW CSP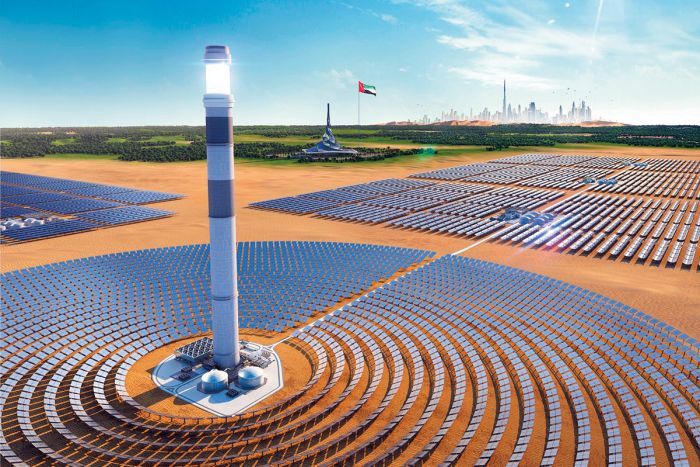 The consortium of the international consulting companies RINA and RPOW has been appointed to develop several activities for the EPC contractor:
engineering documentation review
document development for commissioning, plant performance and O&M
commissioning and O&M specialized training
commissioning and O&M site services.
Our joint teams of highly skilled engineers will support remote and on site activities related with the most critical areas for both central receiver and parabolic trough technologies
The phase will use three technologies to produce 950 megawatts (MW) of clean energy.
It will use 700 MW of CSP: 600 MW from parabolic trough collectors and 100 MW from central receiver system; and 250 MW from photovoltaic solar modules.
This phase will provide clean energy for 320,000 residences and will reduce 1.6 million tonnes of carbon emissions annually.
The project, which will cover an area of 44 square kilometers, achieved several world records. It is the largest single-site solar IPP project in the world that combines CSP and photovoltaic technology. It further has the world's lowest CSP Levelised Cost of Electricity (LCoE) of USD 7.3 cents per kilowatt-hour.
The project will feature the tallest solar tower in the world at 260 metres. It will use 70,000 heliostats and will havethe largest thermal storage capacity of 15 hours; allowing for energy availability round the clock.
The Solar Park
The Mohammed bin Rashid Al Maktoum Solar Park is the largest single-site solar park in the world, based on an IPP model. It will comprise of 5,000 MW by 2030 with investments of up to AED 50 billion.
13 MW of photovoltaic capacity first phase became operational in 2013. The 200 MW photovoltaic second phase of the solar park was launched in March 2017. Another 200 MW of the 800 MW photovoltaic third phase became operational in May 2018.
The third phase is foreseen to be completed in 2020.