01 Feb 2021
Remote surveys have attracted considerable attention during the COVID-19 pandemic, but there are many more advantages to this technique apart from simply avoiding physical contact.
RINA has worked closely with shipping company Vroon Offshore Services over the past year on a number of remote surveys. One significant element which has come to light is how remote surveys can dramatically reduce the impact of machinery failure.

During a year-long trial period in which twelve surveys were carried out on the Vroon Offshore fleet, the company recorded a significant reduction in machinery failure and an improvement in business continuity.

In one case, a gearbox failure on the firefighting pump of the Anchor-Handling Tug Supply (AHTS) vessel 'VOS Triton' threatened to halt operations. However, using software developed by RINA for remote surveys, engineers were able to give clearance for the vessel to continue operating while replacement parts were sourced.

This provided two extra weeks of service before the vessel had to enter port for repairs, which were then also supervised remotely, reducing downtime and averting possible off-hire. The remote survey was achieved using just a conventional smart phone and special software protocols developed by RINA.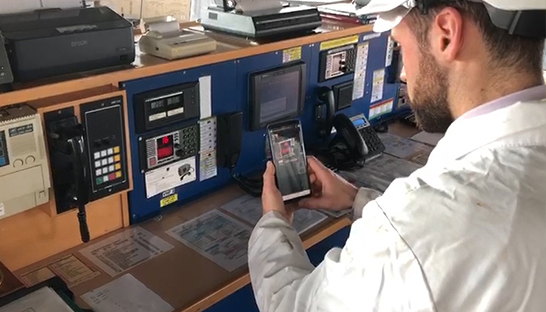 Ship availability was also maximised in an incident involving 'VOS Aphrodite', which was on standby awaiting compliance with the INF code. With flag administration approval, RINA performed a remote survey, and an e-certificate was successfully issued.

Vroon's Italian-flagged offshore fleet has now obtained RINA's pioneering 'Remote' notation, enabling the operator to perform periodical class surveys remotely and taking its classification process to the next digital level.

"One of the key tasks of any ship operator is ensuring its vessels are kept fully classed and certified. To guarantee this, we need to overcome movement limitations in order to keep operating our assets as usual", commented Cristiano Vattuone, Manager Ship Management at Genoa-based Vroon Offshore Services.

To comply with the notation, Vroon's ICT (Information and Communication Technology) team arranged an onboard 'connectivity kit' to ensure flawless 4G wireless connection in all areas on board the ship. For shipowners, a small investment like this can translate to huge savings, operational continuity, better charterer satisfaction and higher revenues.

RINA is committed to offering integrated services across the offshore industry, a factor which was shown by another project involving the two companies this year when Vroon Offshore successfully installed a RINA-approved marine-certified telescopic mobile crane onboard its AHTS 'VOS Champagne'.

The challenging project - which covered engineering, procurement, construction and installation - involved safely securing the equipment on deck while complying with all class-stability requirements. Particular attention was paid to its utilisation in severe weather / sea conditions.

After completion of the two-month installation process, all equipment was tested and certified by RINA, and the crane went operational in July.
Dario Bruni