01 Feb 2021
One of the many issues the COVID-19 pandemic has highlighted is the lack of voluntary standards for the prevention and control of infection, particularly outside of healthcare sectors.
Indeed, the presence of such a management system could have avoided the spread of infection in some organisations, as well as some of the tragic implications that followed.

As a result, RINA has developed a ground-breaking new management system certificate which can be implemented in practically any organisation.

RINA's new Biosafety Trust Certification provides requirements to manage the risk of spreading epidemics in crowded places such as accommodation facilities (hotels, congress centres, cruise ships), entertainment and sporting venues (restaurants, theatres, gyms, museums, swimming pools), healthcare structures such as retirement and care homes, and public transport.

Its main objective is to prevent and mitigate the spread of infection, and it is equally applicable to players in the transport and tourism sectors. This could include ship owners, ship builders, parts manufacturers, etc.

Certification is based on the systematic ISO approach to management systems, combined with the principles of Organisational Behaviour Management (OBM).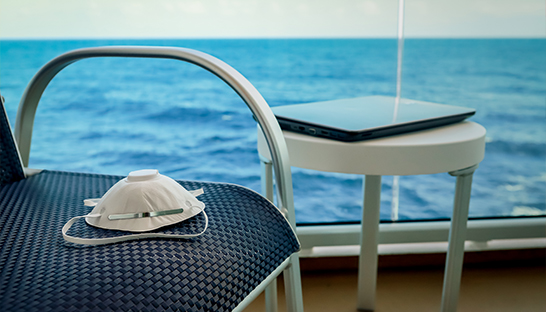 Human behaviour plays a fundamental role in the success of health safety management systems. OBM is a science-based discipline that aims to explain, predict and control human behaviour.

In this regard, the scheme provides ad hoc training courses on strict compliance with hygiene rules, the application of the management system in specific contexts, and staff awareness at an individual level.

Compliance is verified by RINA through documentary audit and audits at the organisation's sites. The certificate has a three-year validity and includes periodic supervision.

Each business sector carries different infection risks, with varying severities. The requirements for each sector are based on analysis of the best practices for the prevention and control of infection in that specific sector.

Upon completion of a successful certification process, the organisation obtains a 'Biosafety Trust' certificate, which also entitles the company to display a logo affirming the same.

Those organisations that implement the system will be able to reassure users and customers that they are following the highest health and safety standards thanks to a combination of ISO standards, science-based knowledge on the spread of infections, and the lessons learned by frontline professionals during the current epidemic.

In creating such a system, RINA aims to assist industry in its economic recovery. Meanwhile, certified organisations will be able to reassure their clients and staff that the highest standards of infection prevention and control are being implemented.

Such guarantees will ensure trust in the service by users, clients and employees alike.
Laura Severino