Business
Period
Project Coordinator
Funding Scheme
Transport & Infrastructure
July 2018 -June 2022
ALMA MATER STUDIORUM - UNIVERSITA DI BOLOGNA
H2020
Challenge
Nowadays the massive deforestation, overbuilding of rural and coastal areas, modification of natural watersheds have made territories more prone to hazards.

The employment of nature-based solutions (NBS) can mitigate the impact of hydro-meteorological phenomena such as flooding, landslides, coastal erosion, droughts and salt intrusion on extra-urban territories.

OPERANDUM has received funding from the European Union's Horizon 2020 research and innovation programme under grant agreement No 776848 to develop a set of co-designed, co-developed, deployed and tested innovative green and blue/grey/hybrid NBS for the mitigation of the impact of extreme events, promoting their acceptance and facilitating the adoption of new policies for the reduction of hydro meteorological risks in European rural and natural territories.

The NBS will be tested and demonstrated in ten living labs called Open Air Labs (OALs), located both in European and extra European countries (i.e. China and Australia). The OALs are aimed to promote innovation and research development and to foster the development of new services/systems/products and business opportunities, relying on the residents participation in conceptualizing and testing.

Moreover, in the framework of this new project, a multi-dimensional platform for data storage, multiple web services, case demonstration and further exploitation including links with existing platforms will be developed (named GeoIKP).
Approach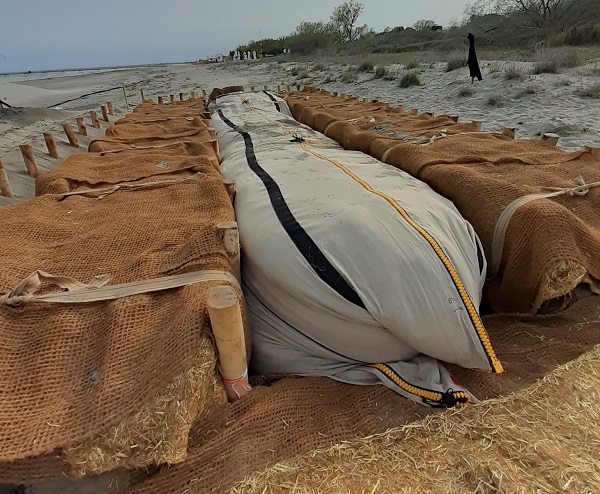 RINA is mainly in charge of the activities related to the "Co-design and co-development of innovative NBS" (WP2 leader), bringing into the project its engineering experience with the aim to integrate the NBS with conventional engineering approaches. Moreover, RINA is deeply involved in the implementation of the Italian OAL as one of the NBS technology providers.

In particular, RINA is taking care of design (preliminary, detailed and executive), construction, technical supervision and monitoring task related to the artificial dune that has been realized as one of the Open Air Laboratories of the project.
For the reinforcement of the artificial dune we have developed and successfully deployed on site a novel design of geotube with a modular structure, which allow reducing the risk of contamination of the coastal environment with plastic fibres and microplastics as well as minimizing on-site operations compared to monolithic geotubes and grey infrastructure.
Moreover, we are also contributing to the development of the project platform and to the integration of the different GeoIKP components.
Conclusion
In conclusion, OPERANDUM will improve disaster risk management, due to enhanced capacity for providing quantitative assessments of Nature-based solutions for disaster risk reduction and climate change adaptation.
Moreover, OPERANDUM will produce evidence of cost reduction associated NBS to combat hydro-meteorological risks while showing reduction of possible human losses due to better and more flexible disaster risk management with NBS.
Project Consortium
1.
ALMA MATER STUDIORUM - UNIVERSITA DI BOLOGNA - Italy
2.
ILMATIETEEN LAITOS - Finland
3.
TECHNISCHE UNIVERSITEIT DELFT - Netherlands
4.
HELMHOLTZ-ZENTRUM GEESTHACHT ZENTRUM FUR MATERIAL- UND KUSTENFORSCHUNG GMBH - Germany
5.
KENTRO KAINOTOMON TECHNOLOGION AE- Greece
6.
UNIVERSITY COLLEGE DUBLIN, NATIONAL UNIVERSITY OF IRELAND, DUBLIN- Ireland
7.
UNIVERSITY OF SURREY - United Kingdom
8.
UNITED NATIONS EDUCATIONAL, SCIENTIFIC AND CULTURAL ORGANIZATION -UNESCO - France
9.
LUONNONVARAKESKUS - Finland
10.
OESTERREICHISCHE AKADEMIE DER WISSENSCHAFTEN - Austria
11.
THE GLASGOW CALEDONIAN UNIVERSITY -United Kingdom
12.
RINA CONSULTING SPA - Italy
13.
C.I.R.A. CENTRO ITALIANO RICERCHE AEROSPAZIALI SCPA - Italy
14.
UNIVERSITY OF GLASGOW - United Kingdom
15.
PERIFEREIA STEREAS ELLADAS - Greece
16.
PNO CONSULTANTS BV - Netherlands
17.
AGENZIA REGIONALE PER LA PREVENZIONE, L'AMBIENTE E L'ENERGIA DELL'EMILIA-ROMAGNA - Italy
18.
SWECO GMBH - Germany
19.
NATURALEA CONSERVACIO - Spain
20.
KAJO SRO - Slovakia
21.
DUBLIN CITY COUNCIL - Ireland
22.
FONDAZIONE CENTRO EURO-MEDITERRANEOSUI CAMBIAMENTI CLIMATIC- Italy
23.
THE UNIVERSITY OF HONG KONG - Hong Kong
24
.
COLD AND ARID REGIONS ENVIRONMENTAL AND ENGINEERING RESEARCH INSTITUTE - China
25
.
UNIVERSITY OF THE SUNSHINE COAST - Australia
26
.
INSTITUTE OF REMOTE SENSING AND DIGITAL EARTH - CHINESE ACADEMY OF SCIENCE - China