The ISO/IEC 20000 standard defines the processes required to provide IT services, both internally and externally.
Its certification, available to organisations of all sizes and types, attests to the excellence of an integrated management system that combines process efficacy and efficiency, economic profit and customer satisfaction for excellent quality of products and/or services offered.
Service Details
An effective IT management system provides the tools to plan, implement, monitor and improve processes relating to:
service delivery
relationships
resolution
control
design and transition.
At all of these stages, the customer-provider relationship is specified by a Services Catalogue, which lists the different levels of service or SLA (Service Level Agreement).
Why RINA?
RINA is accredited as a certification body by Accredia and APMG Group.
Our teams are trained by ICT and Security sector professionals, ICT Auditing (Auditor CISA, ITIL Certificates), technical experts in the field of technology, and industry regulatory experts.
ISO/IEC 20000-1:2018 transition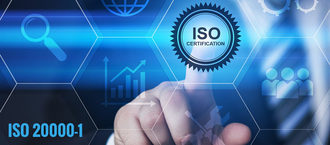 New ISO/IEC 20001-1: 2018 will replace its previous edition, which will cease to be valid on 09/30/2021. The standard adopts the HLS (High Level Structure) structure common to all the new ISOs allowing the best interaction of multiple integrated management systems. Transition period started on 09/30/2018 and certificates can be updated during any audit scheduled before 09/30/2021.