In response to the Covid-19 pandemic, RINA has further strengthened its commitment towards a biosafe shipping by developing dedicated services for the infection prevention and control, as the goal-based class notation BIOSAFE SHIP, that is the first additional class notation devoted to this particular matter.
BIOSAFE SHIP is a goal-based and voluntary notation, whose holistic and flexible approach ensures sufficient freedom for shipowners and shipyards to select those solutions and operative procedures which they deem to be most appropriate.
The voluntary notation is based on a BIOSAFE Index evaluated considering different systems, components and operative procedures to control and prevent possible onboard infection outbreak. In this respect, it acts as perfect guideline for both new building and existing ships in order to foreseen, in the design or operation phases, the right solutions for a safer shipping.
BIOSAFE SHIP main actions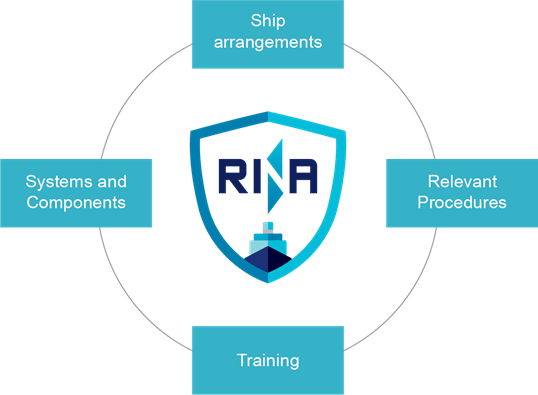 Ship arrangement
Ship's design solutions are very important to prevent and control an infection onboard, such as access and routes for people and goods, public space as well as working spaces.
Systems and Components
Health screening, distancing monitoring, sanitation and measures to prevent the permanence of the virus on the surfaces, together with novel technologies, play an important role to prevent the risk of infections.
Procedures
Ship specific procedures aiming to identify the bio risks with the preventive actions to be adopted to minimize the possible outbreak of infections on board.
Training
Training on health issues in normal and emergency conditions, for the seafarers on board, in particular for those who play important role on the monitoring, control and management of the health conditions on board. Particular training for those persons in charge of systems, components and operative procedures.
Deliverables
The BIOSAFE SHIP additional class notation will be granted newbuilding and ships in service to new and existing ships which make a significant investment on systems, components and operative procedures to control and prevent possible onboard infection outbreak.
A Certificate of Compliance may be issued to ships not classed with us, fulfilling the requirements of the BIOSAFE SHIP Additional Class Notation.
When systems and components are recognized as being capable of improving the ship's infection resilience, we may issue, upon request of the applicant (manufacturer or responsible vendor), a statement relevant to properties of the system or component in respect of recognized standard or following validation test campaign.
General requirements
A Ship Health Officer appointed and present on board
A Health Management Plan, specific to the ship
Adequate training is to be planned, carried out and documented.
Additional requirements
As general reference, shipyards, shipowners and operators can choose among ten solutions categories to gain the BIOSAFE Index:
Ship's general arrangement
Cabins and rooms
Public spaces
Prevention of contamination by surface
Prevention of contamination by air
Prevention of contamination by fresh water systems
Prevention of contamination by grey water and sewage
Garbage handling
Enhanced medical care
Monitoring systems
Inside each category different proposed solutions are available and for each solution a value to calculate the BIOSAFE index is assigned. There is full freedom to use new technologies and any type of solutions, also depending on the ship type (e.g. passenger ship, cargo ship, short voyage, long voyage) and if it is a new building or a ship in service, there are different assignment criteria.
Ship type
New ship
Existing ship
Passenger ship with sleeping facilities
Categ. 8 out of 10
BIOSAFE Index 100
Categ. 7 out of 10
BIOSAFE Index 60
Passenger ship in short sea voyages
Categ. 7 out of 10
BIOSAFE Index 60
Categ. 6 out of 10
BIOSAFE Index 40
Cargo ship
Categ. 5 out of 10
BIOSAFE Index 50
Categ. 5 out of 10
BIOSAFE Index 40
Benefits for shipowners, operators and shipyards
To show Administrations, charterers and other parties that the ship reached standards, higher than the compulsory ones, to prevent and control an infection on board
to show that efforts have been put into place placed in order to upgrade the ship design and systems
to grant a safer environment for passengers, crew and workers.