06 Oct 2023
RINA has taken a significant step within the superyacht sector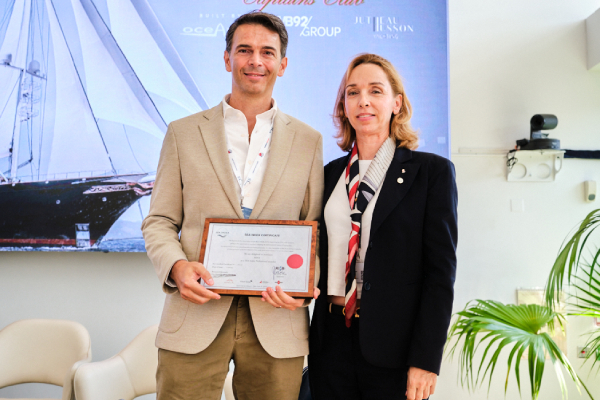 RINA, a globally renowned European classification society and certification authority, has taken a significant step within the superyacht sector by becoming a corporate member of the Superyacht Eco Association (SEA Index), a consumer oriented non-profit organization advocating more transparency and energy- efficiency from the superyacht industry.
The SEA Index, an established pioneering tool launched in 2020 and emanation of the Yacht Club de Monaco, provides all yacht owners with impartial and third-party verified tools to evaluate the environmental impact of superyachts. This latest collaboration will complement the existing phases of the SEA Index, which include Phase III (launched in July this year, evaluating the energy intensity of yachts above 25 meters and based on the rated installed engines and generators on board) and Phase IV (launched in Cannes early September in collaboration with Azimut Yachts, evaluating the energy intensity of yachts ranging from 0 to 24 meters based on their fuel consumption).
This collaboration with RINA marks a pivotal moment in its ongoing efforts to promote environmental responsibility within the sector. RINA and the Superyacht Eco Association are teaming up to work on another essential segment of the SEA Index tool, focusing on the fuel consumption analysis of yachts exceeding 500 gross tons (GT) and above 25 meters in length.
Giuseppe Zagaria, Marine Italy Technical Director at RINA, said "Innovation is at the core of the yachting industry, and, through it, the sector will succeed in achieving even more sustainable practices. This matches perfectly RINA's vision and competence in cutting-edge technologies. We have decided to join the new SeaIndex initiative to make our expertise in sustainable solutions and compliance available to yacht owners providing them with a more effective understanding of the environmental performance of their yachts."
Natalie Quévert, SEA Index project leader commented "Our guiding principles have always been in alignment and will evolve with the International Maritime Organisation (IMO), all the while ensuring third- party verification. We are very proud RINA has seen value in our work and join us on our journey. Slowly but surely, with the help of all our SEA Index members we are lifting the veil of secrecy on vessel consumption and vessel energy- intensity. We believe yacht owners have the right to know what they are purchasing, reselling, or chartering".