14 Sep 2022
The bunker tankers will get the RINA GAS FUELLED notation upon their deliveries in 2023 and 2024 respectively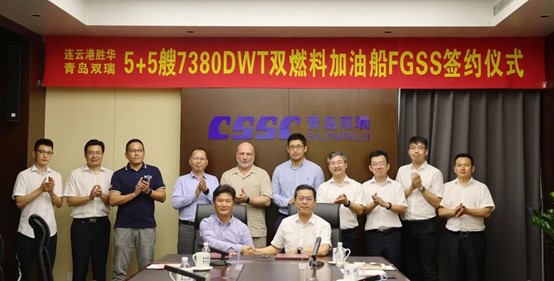 On 23rd June 2022, RINA has been awarded with a contract for the classification of two liquefied natural gas (LNG) propelled dual fuel (DF) bunker tankers.
The vessels were requested by a Singapore-based firm, Singfar International Pte Ltd (SFI), and will be built by Lianyungang Shenghua Shipbuilding Co., Ltd (LYGSH) at LYGSH's shipyard in Lian Yun Gang, which is situated in the Jiangsu province of China.
The tankers will comply with the Singapore Maritime and Port Authority's (MPA) latest requirements for bunker tankers and will be granted with RINA GAS FUELLED notation upon their deliveries in 2023 and 2024 respectively.
The DF bunker tankers will be equipped with DF capabilities for both main and auxiliary systems. They will feature other power saving devices and improved hull forms to deliver the best environmental performance in their operations.
On 28th April 2021, SFI entered into a memorandum of understanding (MoU) with LYGSH for the joint development and construction of a series of 7,000 dwt bunker tankers. The MoU signed oversees LYGSH building five LNG propelled DF bunker tankers, together with an option for five more sister ships, for SFI.
"We are pleased to work with RINA and Lianyungang Shenghua for the design and construction of the new class of tankers in our fleet renewal programme. This is a tested and proven partnership that has yielded more than a dozen new tankers over the past decade. We hope that RINA can again guide us through the design and construction of the vessels, aiding us to achieve our goals towards a lower carbon footprint for our fleet.", declared Mr. Richard Lim, the Head of Shipmanagement at SFI.
"RINA had been a strong partner of Lianyungang Shenghua shipyard for more than 10 years and we have constructed different types and series of vessels through this partnership. We have confidence that RINA will be able to offer valuable technical service in our new project, helping us deliver again to our clients vessels of outstanding quality.", said Mr. Pan Sheng, General Manager of LYGSH.
Last but not least, our Mr. Pang Yong Song, Director, Business Development, Marine South East Asia & India Area of RINA said: "The dual-fuel technology used will enable sustainable and economical operations, with increased fuel efficiency. RINA is honoured to be chosen as the class of choice and looks forward to supporting forward-thinking companies like SFI and LYGSH in their sustainability journey and accelerate maritime decarbonisation in Singapore."