08 Dec 2021
It is the first Romanian bank to obtain the certification for verification and evaluation of the implementation of Covid-19 prevention measures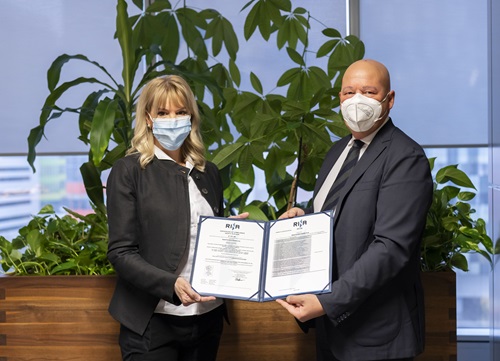 Raiffeisen Bank, part of the austrian group Raiffeisen, is the first bank from Romania to obtain the "Safety in Place" certification for verification and evaluation of the correct interpretation and implementation of Covid-19 prevention measures.
RINA has developed "Safety in Place" based on the most recent regulations from WHO and national authorities, as well as the orientations, guidelines and good practices developed by specialists and main commercial asociations.
The "Safety in Place" certificate and labels are being granted after a rigorous procedure that include verifications adapted to the specific of the activities, thus assuring all interested parties that in the audited locations the proper safety standards were reached and adequate hygiene protocols are implemented, in compliance to the legal norms as well as respecting the best practices in Covid-19 prevention.
"Since the very beginning of this pandemic we implemented a series of protection and prevention measures, acting responsably for the health of our clients, our employees and our partners, as well as in compliance with the norms imposed by the authorities. We are glad that through our partnership with RINA, our efforts have been certified by an institution of high reputation, extensive experience and high competences in the field of occupational health and safety certifications, recognized worldwide for the rigor with which it conducts audits. In this period, our team makes every effort to maintain the optimal balance between safety and the quality of the services we want to offer to all those who come to our locations", has said mrs. Irina Kubinschi – Executive Human Resources Director at Raiffeisen Bank.
Mr. Alessandro Romei – EMEA Senior Director at RINA, has declared: "We are honored to be with Raiffeisen Bank and support in their efforts of managing the risks posed by the current pandemic as efficient as possible. The carefulness for the bank's employees and clients was noticed by our specialists throughout the project, in which we collaborated excellently with a real team of professionals. The "Safety in Place" certification granted to Raiffeisen Bank represents both an opening in the matter for the romanian banking environment, as well as respecting the commitment of RINA group to bring the specific expertise we accumulate globally to the local market, thus contributing to solving the needs and managing the challenges faced by the organizations affected by the current pandemic".