03 Jul 2019
RINA took part in the workshop as Notified Body and technical contributor
In railway domain, due to the growing complexity in signalling and safety electronic equipment installed in railway environments, the Electromagnetic Compatibility (EMC) topics are getting more and more relevant and the normative reference framework is constantly upgrading.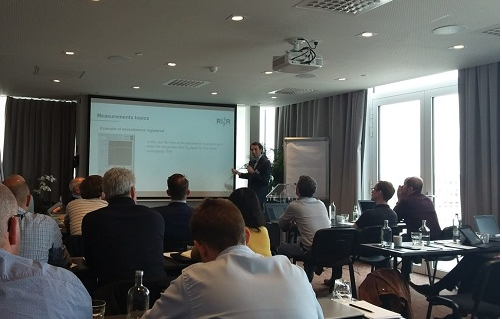 In this framework RINA has been invited by INFRABEL (Belgian Railway Infrastructure Manager) to participate to the European Workshop Homologation of Rolling Stock with Axle Counters as Notified Body and technical contributor in the EMC Rolling Stock emission measurements.
The Workshop was organized by INFRABEL in Bruges with the scope to harmonize the evaluation methods and propose to CENELEC groups improvements and corrections of related EN standards.
Different stakeholders from each European country were invited to provide an overview of the practical methods of homologation of rolling stock in relation to the axle counters, move toward a shared interpretation and understanding of the current CENELEC norms (EN 50592, EN 50617-2, TS 50238-2) and define a strategy to perform cross acceptance of the measurements done in different countries.
RINA presented the Italian process from the point of view of a Notified Body and, as laboratory, reported its experience in this kind of EMC measurements. With this occasion various technical issues were discussed among the experts, and, as conclusion, many points of clarification and improvement were identified.
Concerning the train detection systems and in particular the axle counters, RINA, as Notified Body, is working together with the European Railway Agency and other railway stakeholders, in the update of the reference standards. In parallel, RINA Railway Certification Laboratory has created its own measurement chain with tools own developed and manufactured in order to provide high engineered service to verify the electromagnetic compatibility of a new rolling stock to be put into service on European railway network. The laboratory is one of the first to perform these kinds of measurement in different test sites around Europe and other test campaigns are planned in the next future.
Stay tuned and be inspired by innovation.