21 Oct 2021
How to value our differences and transform inclusion into an opportunity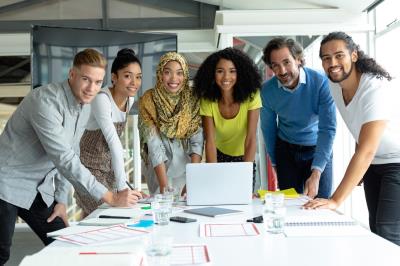 We believe that promoting cultural exchange for people of different ages, genders, geographies, abilities, religions etc. is one of the best ways to foster the most innovative ideas and create work environments where employees feel satisfied and respected.

For this reason, we take part in 4Weeks4Inclusion 2021, a four-week marathon taking place from 22 October to 22 November in which we are going to enhance diversity, transform inclusion into an opportunity and convey the values of Inclusion Management together with other 200 companies.
Over 188 digital events will be organised and the following 8 events will be open not only to employees of partner companies, but also to external public:
22 October - Networking companies: the moderator Monica D'Ascenzo - Il Sole24Ore will interview HR Managers working for some partner companies in order to share the numbers, partners, purpose, structure, guests and program of 4W4I.
22 October - Stories of Inclusion: the CEOs of some partner companies will discuss with institutional representatives about how to boost social and economic development, thanks to corporate policies on inclusion as well.
22 October - Different, but the same: the role of trade unions regarding inclusion and the upcoming challenges of the future.
27 October - Women Power! Date: what is the impact of bias and cultureto social and family roles and to academic and professional choices?
3 November - Digital Inclusion: Riccardo Luna - GEDI Publishing Group will moderate the event dedicated to digital barriers, how to remove them and increase access to information
10 November- The talent of Rebel Brains: Gian Luca Nicoletti - Il Sole24Ore will moderate the event dedicated to neuro diversity.
17 November - Companies that Include: the moderator Gian Luca Nicoletti - Il Sole24Ore will present tools and best practices to support companies of different sizes and complexities that would like to approach the D&I issue.
22 November - 4W4I 2022 !: closing ceremony of 4W4I
In the framework of 4W4I, we organize the webinar "Neurodiversity: an added value for the company" on 8 November from 9.30 to 10.30: register for free on 4W4I website!