17 Jan 2019
We have been awarded as Project Consultant to help local SMEs invest in improvements to product quality and modernise their services
The European Bank for Reconstruction and Development and the European Union are stepping up their support for businesses in Georgia, Moldova and Ukraine with a joint programme to help domestic SMEs converge with EU standards. This will allow taking advantage of the opportunities offered by the Deep and Comprehensive Free Trade Area (DCFTA) between these Countries and the EU.
The establishment of a free-trade area is part of the EU's Association Agreements signed in 2014 and will offer local firms access to the EU Single Market, and help boost economic development and growth in Georgia, Moldova and Ukraine.
RINA has been awarded by the EBRD as Project Consultant of the new phase of this Programme. Since September 2016, we have been assisting the local companies and the Participating Banks (PBs) setting up, managing and promoting a Credit Facility aimed at disbursing low interest rate loans and grant incentive to eligible investments. Our multidisciplinary team of experts assisted local SMEs in the three Countries in identifying and better tailoring their technical needs, accompanying them through all the financing process and also during the project implementation, providing a dedicated monitoring activity.
The facility helped to meet EU standards. This in turn created an environment that proved to be beneficial to cross-border trade and economic growth in the three Countries.
The EU complemented this financing offer providing interested SMEs with investment incentives of up to 15 % as well as the technical assistance from the Consultant. Our team – composed of both international and local experts – supported more than 200 SMEs and 8 local banks across the three countries. In less than 2 years of operations this programme was able to allocate the full amount of available funds for Phase I, equal to more than 100 M€, to fund eligible projects.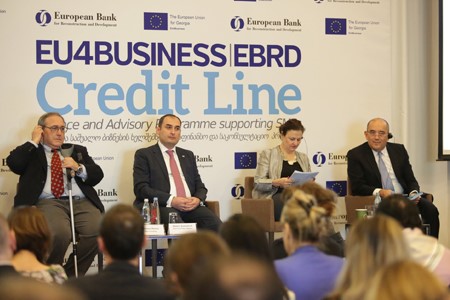 A success event has also been arranged in Georgia with the attendance of the Deputy Director-General of Neighbourhood and Enlargement Negotiations at the European Commission, Ms Katarina Mathernova while some of the financed projects have been visited by the EU Ambassador and also by the President of the EBRD, Sir Suma Chakrabarti.
The EBRD, due to this success, directly awarded us for the same services under Phase II of the Programme, making available an additional amount of about 120 M€ loan for investments in the same countries. Our activities in Phase II started in November 2018 and are expected to last until the end of 2021.