13 - 15 Jun 2022
Register for the 10th edition of the International Conference Magnetism and Metallurgy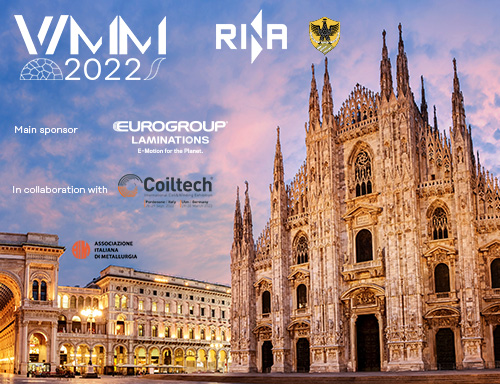 RINA, the 10th International Conference Magnetism and Metallurgy WMM'22 will take place from June 13rd to 15th, 2022 in Milan, Italy.
Chairman of the conference is Dr. Stefano Fortunati and Dr. Stefano Cicalè is the Program Manager.
The WMM '22 conference, for the first time in collaboration with QUiCKFairs®, will be an excellent forum for the exchange of ideas on the status and further trends between experts from the industry and research institutes.
The program will include invited lectures and posters.
All the contributions will be published in a book of conference proceeding.
All the participants will receive the book of proceedings at the conference site.
This year, it is possible to attend WMM' 22 on-line!
On-line Live connection to WMM22 Plenary Session (all three days) has been organized to allow participation of who is still inhibited to travel due to Government restrictions.
The cost for the on-line conference attendance is 450 EUR (+VAT, if due).
Leasure visit and Gala dinner at Museo della Scienza e della Tecnica Leonardo da Vinci
During the Evening event Dr. Alexander Krick, Senior Director Technical Development E-Drives, Power Electronics and Transmissions - Volkswagen Group Components, will give a speech on the "Electrification Strategy of Volkswagen Group".